TC

1.5-16-AD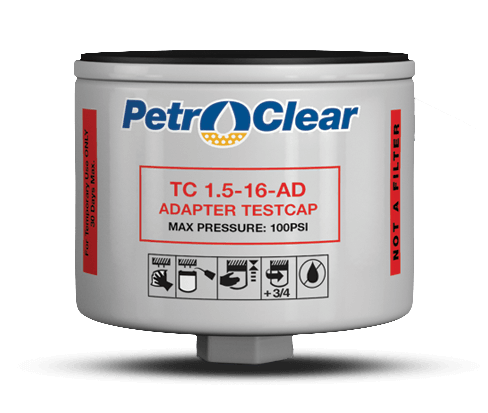 Benefits
PetroClear® Adapter Test Cap models TC 1.5-16-AD are designed to be installed on the adapter base in place of a spin-on filter on a fuel dispenser. The Test Cap will allow service technicians to test and calibrate dispensers without the restriction or cost of a filter.
PetroClear® model TC 1.5-16-AD is designed to fit on a filter adapter base with a 1.5"-16-AD UNF mounting thread (1" flow).
PetroClear® Test Caps are not designed to be permanently installed in place of a filter. The product is not warranted against failure after prolonged use.
Specifications
PetroClear® Test Caps have a welded 1" Hex Nut on the dome end of the Test Cap to aid in both installation and removal.
PetroClear® Test Caps are designed for a maximum operating pressure of 100 psi.
Test Cap model TC 1.5-16-AD utilize an epoxy-coated shell to eliminate oxidation which can cause pinhole leaks from the inside.
Petroclear Filters Are Not To Be Used In Aviation Fuel Applications.